Hotel
SpringHill Suites Columbus OSU
---
A limited number of rooms have been held at SpringHill Suites Columbus OSU for MUG attendees. This rate is valid during August 21-25, 2022. The hotel is located close to the conference center.
If you are not able to get the block room rate, please contact mug@cse.ohio-state.edu
The address and contact information of the hotel is as follows:
1421 Olentangy River Road
Columbus, Ohio 43212 USA
614-297-9912
marriot.com
Airport
Port Columbus International Airport (code: CMH)
---
Columbus, OH 43219
The International Airport at Columbus (code: CMH) is covered by major US airlines and people can travel here with direct flights (from major US cities) or by one-hop from other major cities and international places through cities in East Coast and Midwest (New York, Boston, Philadelphia, Cincinnati, Atlanta, Chicago, Detroit, ...).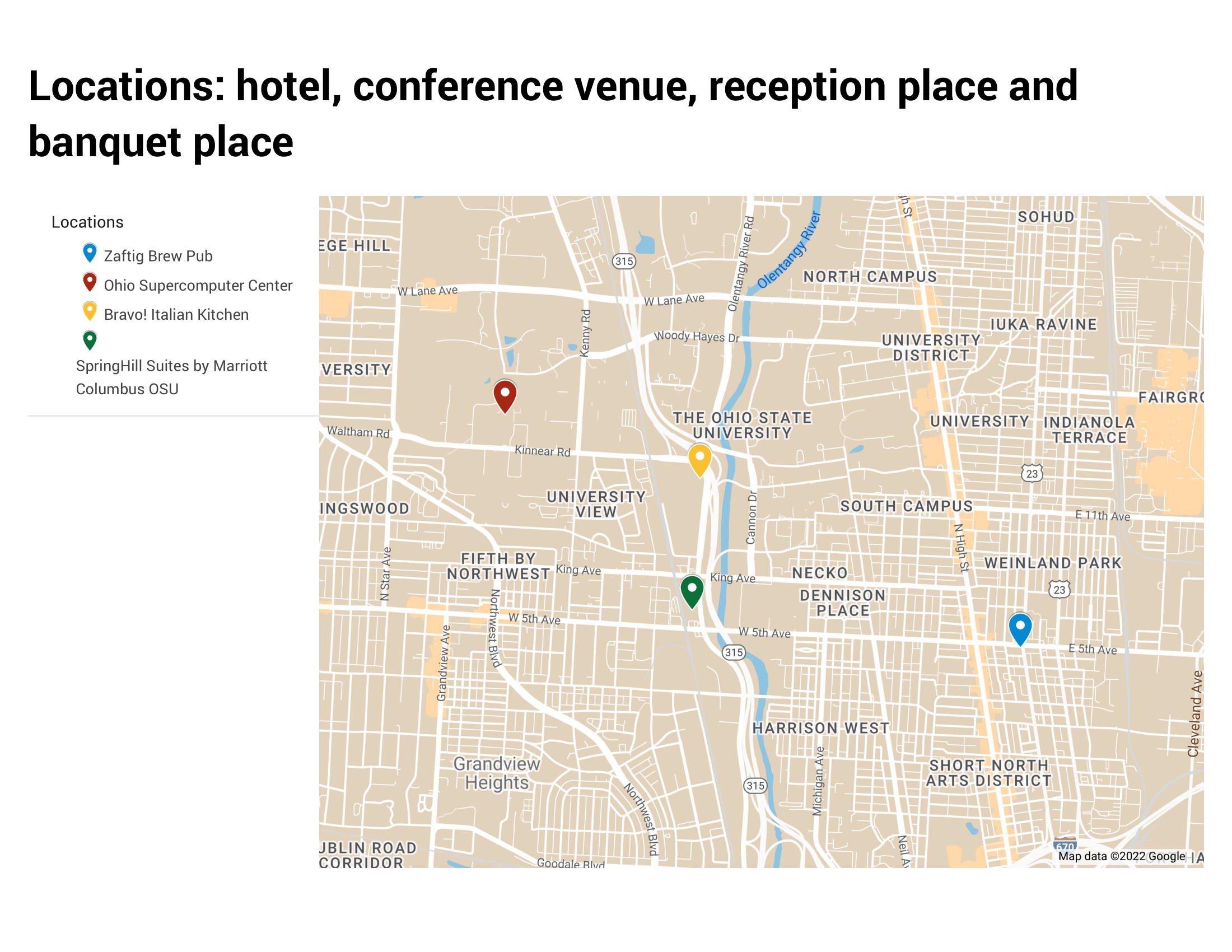 Conference Shuttle
---
The SpringHill Suites will provide shuttle service to the conference center and hotel. The shuttle will leave at the specified times below so please be in the front lobby if you intend to ride the shuttle.
If you miss the initial pickup time, the hotel shuttle is available throughout the day, please see the front desk.
Click here to view the program page. We will arrange transportation after the event to the hotel and the hotel to dinner.
Shuttle pickup schedule: Monday 8:10am Tuesday 8:30am Wednesday 8:10am
The City
---
Columbus is the largest city in Ohio, the 14th largest in the United States. Home to state government, many national corporations (Nationwide Insurance, The Limited, American Electric Power), major league sports teams (Columbus Blue Jackets-NHL, Columbus Crew-MLS), and an expanding technology corridor.
Sightseeing
---
Half day trips
One day trips
Two day trip